Experience the best of Bora Bora in one day.
Discover the island by 4-wheel drive and explore the lagoon by boat or jet ski during a full day tour filled with knowledge and excitement. Between the two exciting activities you will enjoy lunch at the world famous restaurant Bloody Mary's, or at a different restaurant of your choice (not included in the price).
Explore the island of Bora Bora.

Hear stories about the American GI cannons from WWII.

Enjoy fresh coconut water and a fruit buffet and meet a local family.

Let the most amazing view of the island amaze you from an exclusive viewpoint.

Lunch at the world famous Bloody Mary's restaurant on the main island (not included in the price).

Swim with sharks and rays.

Snorkel with colorful fish.

Explore the most beautiful lagoon in the world.
Bora Bora by land and sea
Combine your 4×4 Circle Island Safari with an exciting lagoon tour. Go snorkeling with sharks and stingrays, or choose an adrenaline tour on a high speed jet ski!
Like our half day tour of Bora Bora you circle the island by 4-wheel drive. Our guide will tell you everything about the local culture and traditions of the island. Learn about the ancient history as well as the role of Bora Bora during WWII. You will learn how to make and wear a pareo, and you will taste fresh local seasonal fruits with a local family.
During your lagoon tour you will snorkel with colorful fish and many other sea creatures. Feel what it's like to pet a stingray! Your other option is to let the wind blow through your hair while you zoom across the lagoon on a super fast jet ski.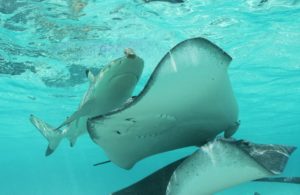 After lunch, we'll pick you up around 1:00pm for a 2½-hours shark, ray and coral garden safari boat outing. Snorkel among the many creatures of the ocean both lagoon side and out in open ocean.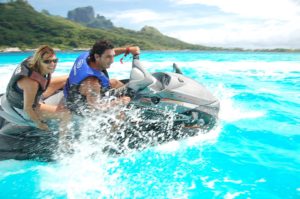 It's the upmost fun at high speeds, while you soak up the gorgeous rugged views of Mount Otemanu as well as the attractive sandy beaches and coconut trees of the surrounding motus.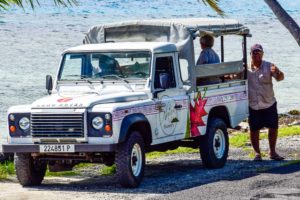 Discover the authentic Tahitian welcoming and enjoy stunning lookouts with views you only see on postcards.
4×4 Circle Island Safari + Shark and Ray feeding
Regular 4×4 Circle Island Safari +
Shark and Ray feeding
Children 3 to 12 years old: half price
Children under 3 years old: free
Private 4×4 Circle Island Safari +
Shark and Ray feeding
Max. 6 people
Including Hinano beer and soft drinks
4×4 Circle Island Safari + Jet Ski
Regular 4×4 Circle Island Safari +
Jet Ski per couple
Children 3 to 12 years old: half price
Children under 3 years old: free
Regular 4×4 Circle Island Safari
+ Jet Ski 1 person
Children 3 to 12 years old: half price
Children under 3 years old: free
Private 4×4 Circle Island Safari
+ Jet Ski
Children 3 to 12 years old: half price
Children under 3 years old: free